Good for Business: A Flu Season Plan of Attack
This article first appeared in Restaurant Business Daily, a Winsight publication.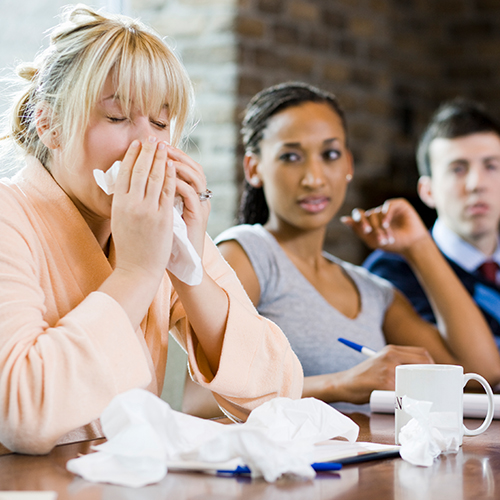 Anywhere people gather, there is increased risk for the spread of flu, and businesses are a hot spot for the transmission of flu germs. That means business owners must take extra measures to maintain a healthy environment—for employees and for customers—to minimize the impact of flu in the workplace. 

Fortunately, it's not too late to create a plan of attack for flu season, which typically begins in October and peaks from December through February. While it is difficult to predict how severe this season will be, now is the time to take action to keep your business healthy. 

The thought of exposing customers to the virus is unsettling, but business owners also know all too well the staffing and productivity issues that employee illness can cause. So, putting a flu prevention plan in place today can be good for business throughout the season. 
 
Attacking Influenza from Multiple Angles
Take the following steps to help prevent the spread of influenza and keep customers and employees healthy:  

Encourage vaccination. Flu vaccines are widely available and affordable, but businesses often don't do stress them enough among employees. The CDC recommends that businesses encourage seasonal flu vaccines, so consider hosting a flu vaccine clinic in the workplace or providing resources to employees on where they can get their vaccination. Additionally, review sick leave policies and encourage sick workers to stay home without any reprisal. "Businesses should visit CDC.gov/flu/business, where free resources are available to help prepare for flu season," says Amna Handley, MSN, FNP-C, CIC, Director of Clinical Development for Georgia-Pacific.  

Reinforce proper hand hygiene. Handwashing is a must to help prevent foodborne illness, but it's also a strong weapon against flu virus. In fact, the National Restaurant Association says handwashing is "dangerously overlooked." Businesses can promote the practice by providing convenient and hygienic handwashing solutions and reiterating how crucial proper handwashing is to a healthy environment. Experts believe flu viruses are transmitted by droplets from coughing, sneezing or talking and hands that come in contact with contaminated surfaces, then the face. "A reminder about covering coughs and sneezes and educating employees about the importance of not touching their eyes, nose and mouth can help prevent exposure to the virus," says Handley. 

Regularly sanitize—and reduce the number of common touchpoints. The flu virus can live on surfaces like doorknobs, counters, common serving areas and tables. Simple cleaning is not sufficient to remove it. "A routine cleaning and sanitizing schedule should be in place," Handley continues. Restaurants and cafeterias, for example, should pay special attention to self-serve areas where guests obtain items like cups, condiments and utensils. Touchless dispensers that provide utensils one at a time are preferable to open bins that are exposed to multiple customers throughout the day. Touchless dispensing can also help reduce germ exposure, according to a study from the American Journal of Infection Control. In fact, customers are more likely to actually use soap and paper towels if they come from automated, touchless dispensers. 

Change underlying attitudes. A recent study reveals that about half of foodservice workers report to work despite being sick, typically because they don't want to lose pay, but also because they don't want to let their team members down. Therefore, management must be clear to workers that bringing their illness into the workplace does no one a favor. When employees develop symptoms of the flu, they should be encouraged to stay home. "The message should be that 'we value your health and wellness and your presence as a productive member of the team,'" says Handley. "And to do that, operators need to encourage vaccination, provide products the staff needs to perform their job properly, review their policy for sick workers, and have a contingency plan in place for when people are out sick."

By being proactive about the flu, businesses can help reduce the likelihood of the illness spreading to both customers and employees.