6 Ways to Ensure Food Quality and Safety with Delivery Orders 
This article first appeared in Restaurant Business Daily, a Winsight publication.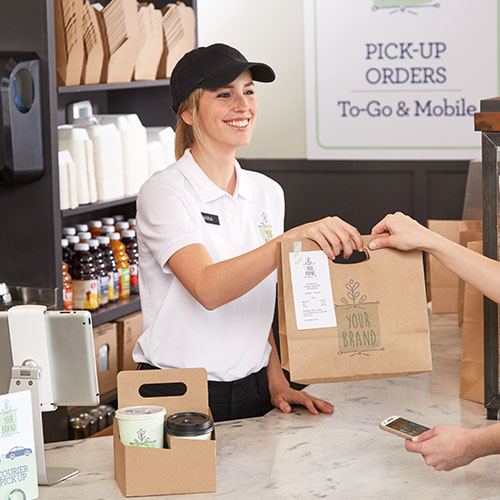 Many restaurant operators, responding to soaring consumer demand, have begun working with delivery marketplaces to offer to-go versions of their menu items. And portability has become crucial, with many consumers preferring off-premises orders over dining in occasions. According to Technomic's 2018 Takeout & Off-Premise Consumer Trend Report, consumers report that 58% of their restaurant purchases are for carryout or delivery, while only 43% involve dining in.

Providing customers with a high-quality and safe product is much easier to accomplish when the meal is consumed in house. But when delivery enters the equation, several steps can help ensure the same level of quality and safety.

(1) Segregate components by temperature. A cold salad topped with slices of warm chicken and packaged already dressed is a recipe for a warm, potentially unsafe, unappetizing meal. Keeping cold foods cold and hot foods hot when they are being transported means giving thought to how they will travel in the same bag or box—or keeping them apart during the trip. Providing brief instructions for how to put all the components together, if needed, is better than doing it up front and risking unacceptable results.

(2) Choose purpose-designed containers. For years, french fries were considered a bad candidate for delivery, but in recent years, vented packaging has reduced the buildup of moisture—and thus any resulting sogginess and a perceived lack of quality. Other food components can benefit from similar treatment with innovations designed to overcome potential issues.

(3) Make sure food stays in its lane. Well-sealed components of an order will prevent potential for spillage—especially if drinks, dressings or sauces are included. Sealable bags, securely sealed liquids, takeout cartons that won't tip easily and other solutions can help avoid mix-ups. Additionally, new technology and packaging can help prevent beverage spills. Preventing cross-contamination is also something customers with food allergies or strict dietary requirements will value.

(4) Keep food safe before pickup. Since it's difficult to time pickups, leaving food on a counter to await delivery drivers is asking for trouble. Better to keep cold foods in a cooler and hot foods in a warming cabinet, then transferring it to the driver at the last possible minute.

(5) Prevent "just a taste" tampering. Delivery drivers are only human and unfortunately some have been reported for sampling orders before arrival. That's why more operators are exploring packaging solutions that discourage driver tampering. The GP PRO Automated Sealing Machine is such a solution which applies a tight seal on beverages that is both spill resistant and tamper evident. While many operations still rely on manually applied tape and other methods of securing deliveries, we may expect more emphasis on professional, tamper-evident packaging. 

(6) Work with reputable delivery firms. Temperature and time are of the essence when it comes to food quality and safety. Make sure delivery drivers, whether in house or outsourced, have appropriate equipment for maintaining temperatures and aren't making five stops before they drop the next order off.

Delivery has become essential to many restaurants' survival, and maintaining food quality is seen as the key factor in keeping delivery customers happy. By using quality packaging designed to address the needs of restaurants offering delivery, operators can feel confident in their offerings. Working with reputable firms, using tamper-evident packaging, preventing spills and separating foods to be delivered are all great ways to ensure customers are satisfied and their food gets there in great shape. To learn more about how Dixie® foodservice products can help with food safety and quality during delivery, visit ServeGreatness.com.